Living on the Road
with Jim and Gayle
October 2002
We kept forgetting to take the camera with us when we went fishing, or when we remembered, we wouldn't catch any fish. Finally, we remembered to take the camera AND we caught a couple of fish. Unfortunately, we forgot to take a picture until Jim had already filletted one of the fish! He looks like a hardcore fisherman, doesn't he? These two fish each weighed between 15 and 20 pounds which was typical of the size we were catching, though Jim did catch a 30 pounder and a friend of ours was routinely catching 50! pounders.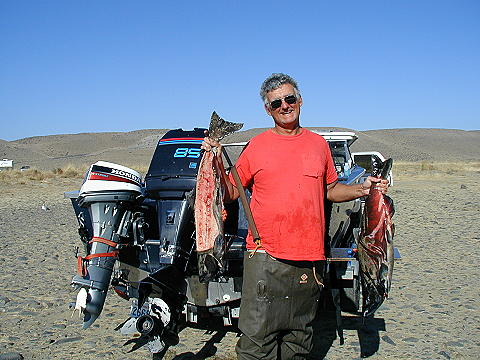 This is what these two fish looked like once they were filletted and put on racks ready to be smoked.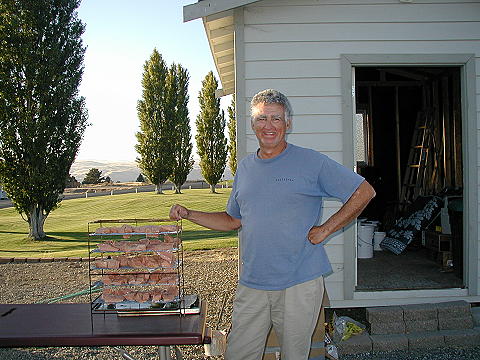 We launch our boat into the Columbia River by "dumping" it off the bank of the river. There are no ramps or docks where we fish.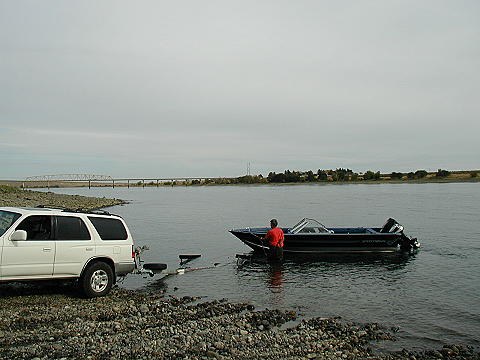 And finally, here's a picture of Jim sporting his "Matt Lauer" haircut. I kept saying I could cut his hair. Seems my "standoff" blade was a little short (he hadn't shaved so he really looks rough, doesn't he?)!