Living on the Road
with Jim and Gayle
January 2002
We seem to have gotten stuck in Lousiana for most of the month of January. Came here expecting to stay only a week, but have found the people so nice that we hate to leave. Lots to see and do - swamp, seafood, swamp, alligators, swamp, zydeco, swamp, ... Here is the swamp just outside our RV park.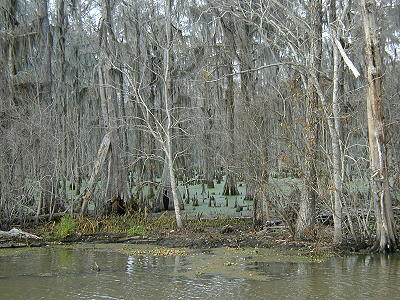 Here we are ready to cross the Mississippi on a ferry.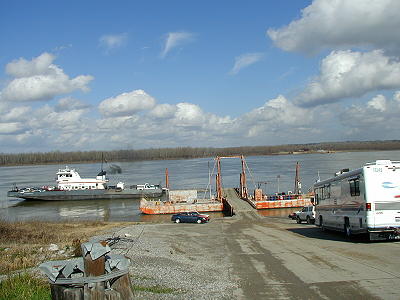 We had to unhook the 4-Runner because the ferry was not large enough. An interesting experience.
The food is great. We've had the usual stuff such as shrimps, crabs, fish; and have added alligator and crawfish. Alligator is a nothing to write home about - the locals say that feeding it to the tourists is the only way to get rid of it. But then there are crawfish. Man, are they good. Here is a four pound platter of boiled ("bald" in the local vernacular).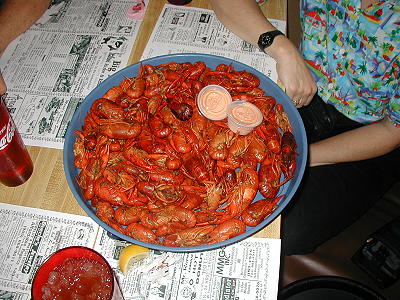 And here is Gayle about to chomp into one.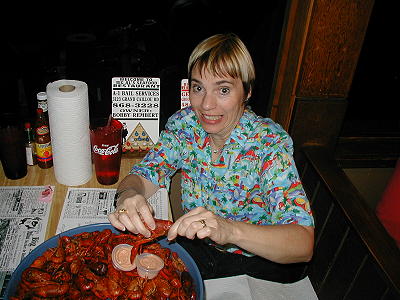 You can see she is very excited about it.
We will stay around Houma for some Mardi Gras festivities and then early in February head over to Pass Christian, Ms. for more adventures.