Living on the Road
with Jim and Gayle
February 2002
February in Southern Louisiana is Mardi Gras time. We went to three parades - two in Louisiana and one in Mississippi. Each parade consists of a number of floats occupied by a dozen or so "Krewe" members who have been drinking for several days. They throw trinkets to the crowd. The objective of the parade viewer is to grab as many of these trinkets as possible, with beads being the most desirable (other trinkets include plastic cups, rubber tipped spears, nerf footballs, frisbees, bananas, etc.). The parade viewers are heard to holler, "Throw me somethin' mister", as the floats go by. Here is a photo showing beads in the air.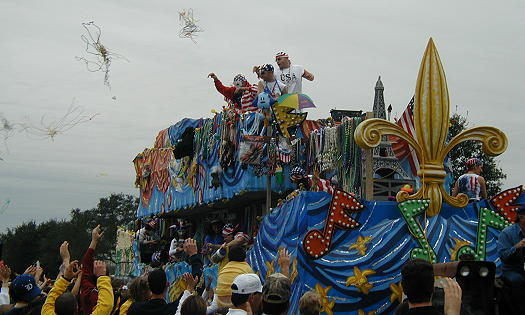 The number of beads thrown is astonishing. Each float member must pay for his share of the beads. This may be $1,000 or more per person! Here are the beads we snared at the Houma parade.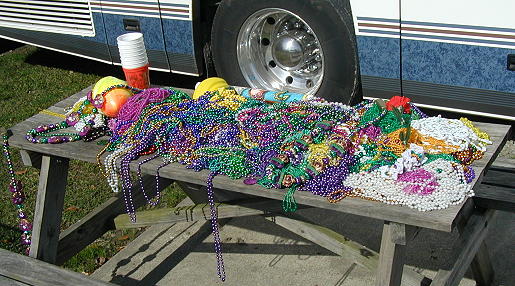 Many people went away with 2 or 3 times this many. And what do the people do with all the beads? Most simply store them in their attic. A popular quip around New Orleans is that the reason the town is sinking is from the attics full of beads.
While the parades are good fun, it was the people that made our stay here and in Mississippi such a pleasure. Here is Gayle with Margaret. We met her and her husband at the Jolly Inn dance hall and they just took us in.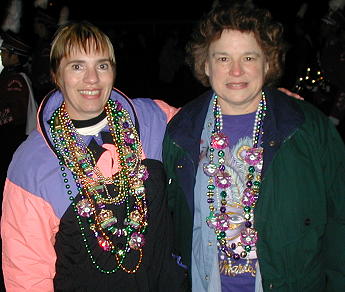 As I mentioned, we also attended a Mardi Gras parade in Mississippi. Pass Christian is just across the state line, so, it gets caught up in the Mardi Gras madness. We stayed with Karl and Judy who we met last year at a Foretravel motorcade.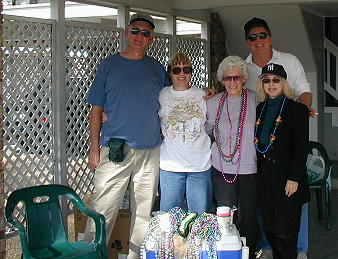 There were many others we met and we look forward to visiting with them again next year.
So, with our bellies full of crawfish and our attic full of beads, we move on.