Living on the Road
with Jim and Gayle
January, 2015
We did a lot of things in December and January.

Of course, Jim worked on the coach and the lot.

His biggest triumph was finding the disconnected cable that was causing communicaton issues with the transmission. It was hidden and he only found it by sticking his camera into various nooks and crannies and taking pictures.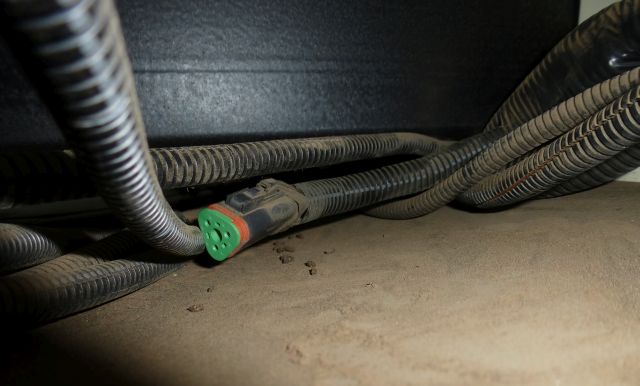 He had to replace the starting batteries. We had had trouble starting the coach on the way down. It ended up being a series of three failures -- a bad cable connection (fixed by Country Coach when we were coming down), a bad boast solenoid (fixed by Jim after we got here) and finally, bad batteries. As part of our purchase agreement, the previous owner installed new starting batteries. But, he installed cheap car batteries which were not up to the task of starting the big Cummins engine.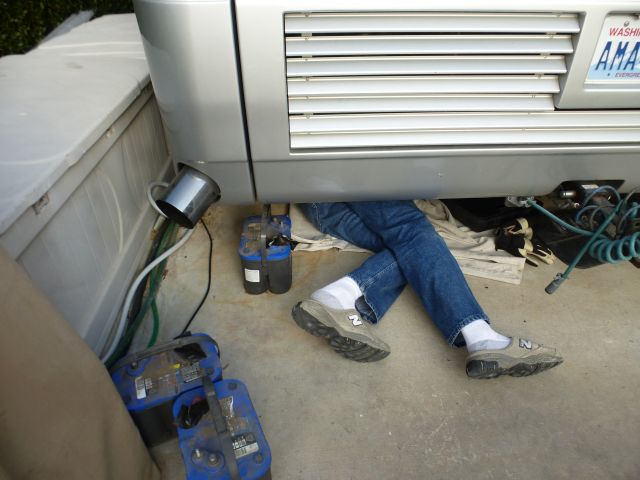 He replaced the big air filter.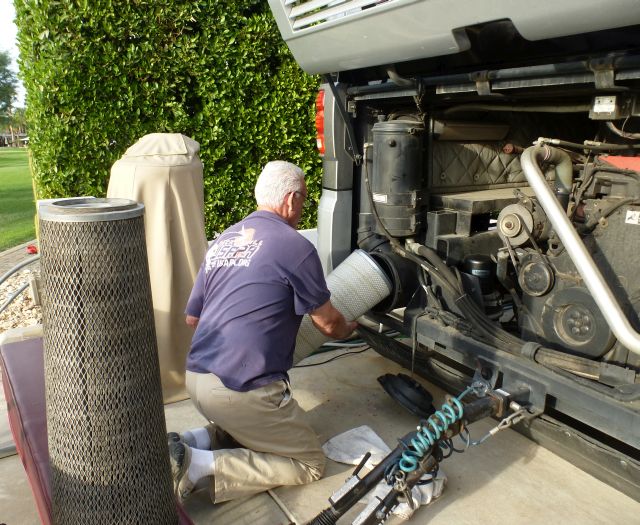 Jim installed LED light strips on the edge of the big patio awning. These coupled with the lights he put on the awning over the outdoor kitchen counter can turn night into day.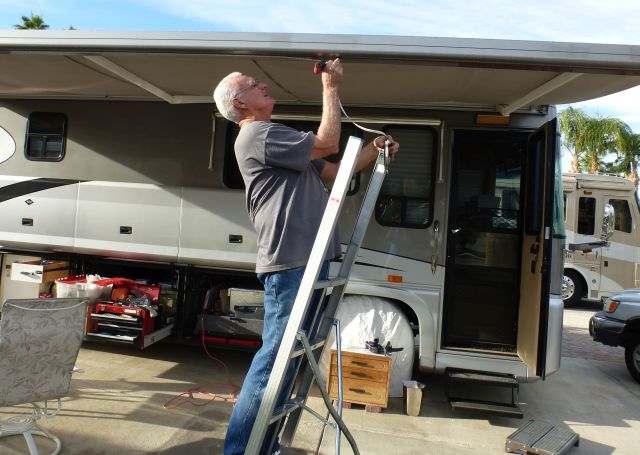 Jim got tired of sitting on the couch. I didn't want to sit on it either. We had been looking for a recliner for him but finally found a recliner that I like. He took out the couch and now has my old stressless recliner. The flooring in the area is part of the main slide and sits 3 inches higher than the main floor. He built a little platform for his chair (it will have to be carpeted). We are both happy with our sitting arrangement.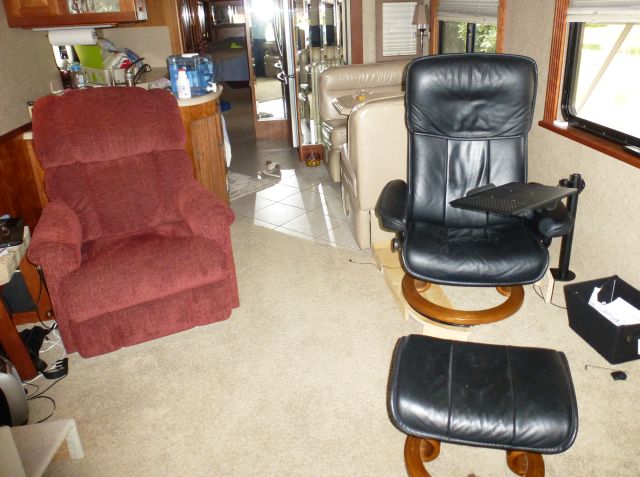 The couch had a lot of storage in a drawer that ran the full length of its base. We are now, once again, short on storage. Jim has ideas about modifications he can make to add storage. However, it will require a saw. He was able to buy a used saw but, having already, given away one saw, he decided he would make a storage cabinet/work bench for this one.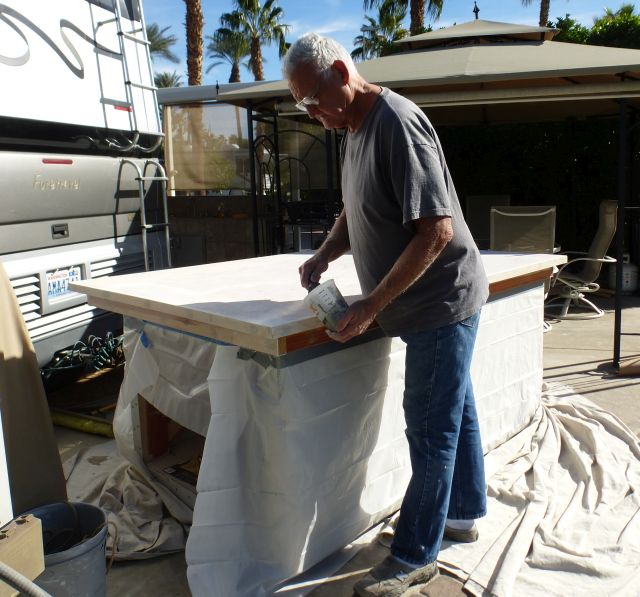 The truck apparently was feeling neglected so it had to have both of its rear taillights fixed.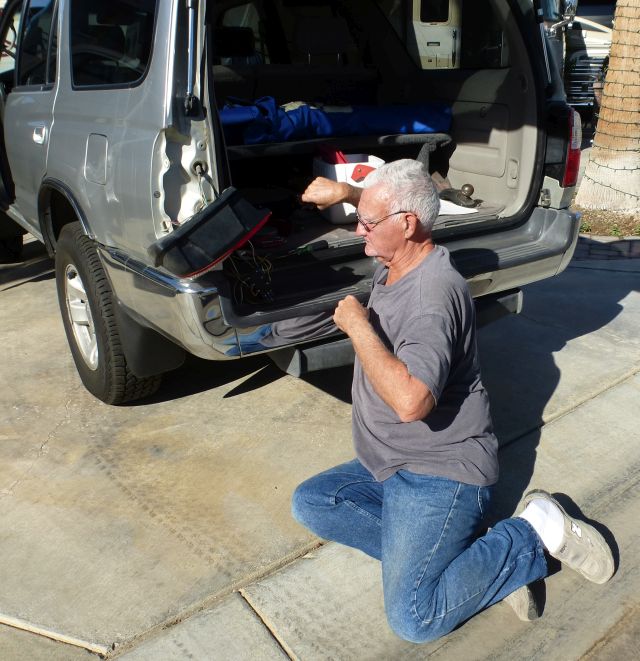 I had arthroscopic knee surgery to repair a torn meniscus in my left knee. I am diligently doing my physical therapy and recovering nicely though I am off the pickleball courts for 8 weeks. But, my right shoulder is back in spasm so I probably couldn't play anyway.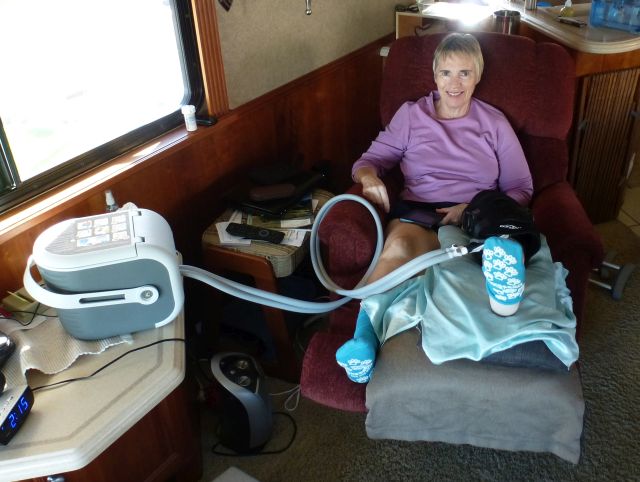 It was not all work these last two months.
My college roommate, Carol, and her husband, visited the desert in mid-December. Although I had just had knee surgery, we still had a great visit. Carol and Duane even cooked dinner one night when another friend, Ken, and his wife passed through on their way to Arizona.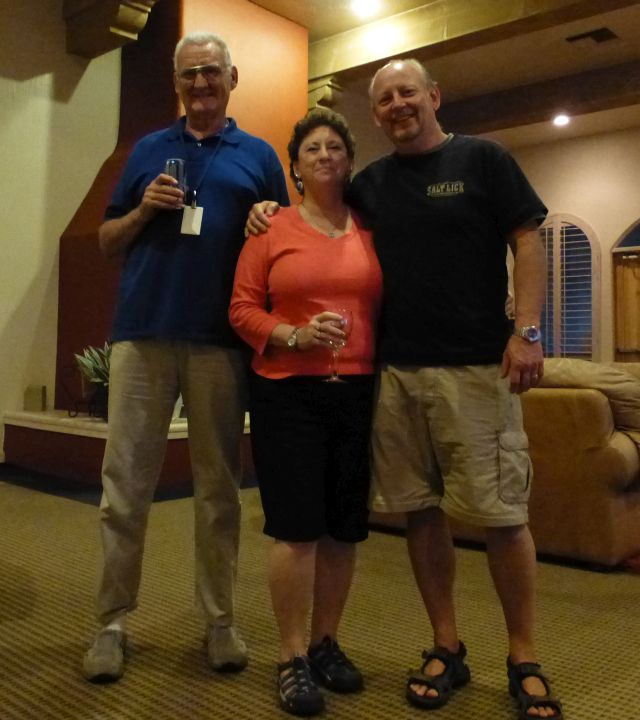 We had a couple of pickleball friends -- Chris, Don, Karen, and Gordon over for salmon dinner (haven't done much of that this winter).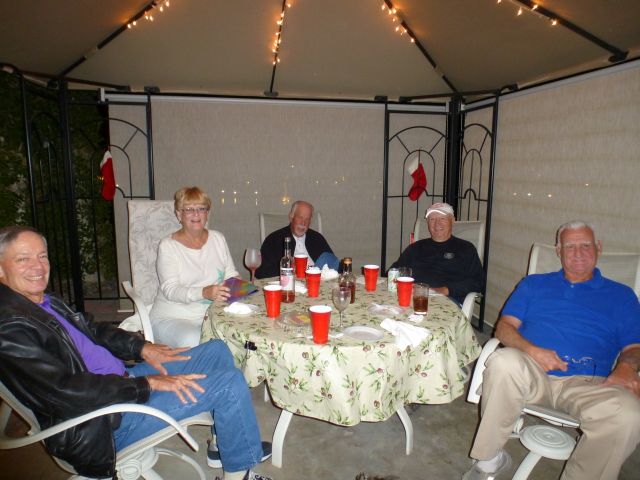 Karen and I went to the McCallum to see "Anything Goes".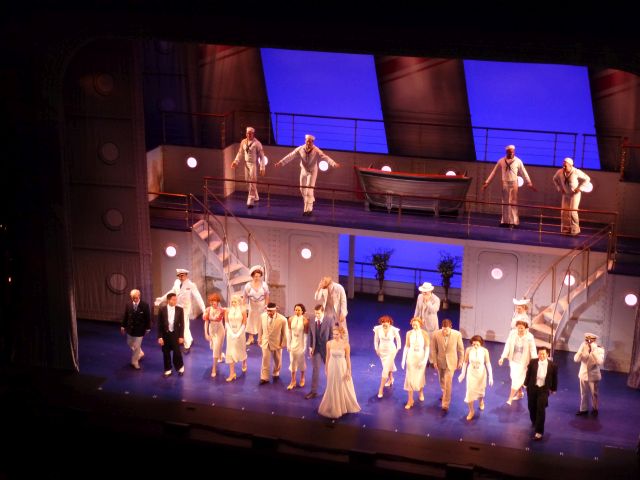 Jim and I went to see a John Denver tribute band at a nearby casino (excellent).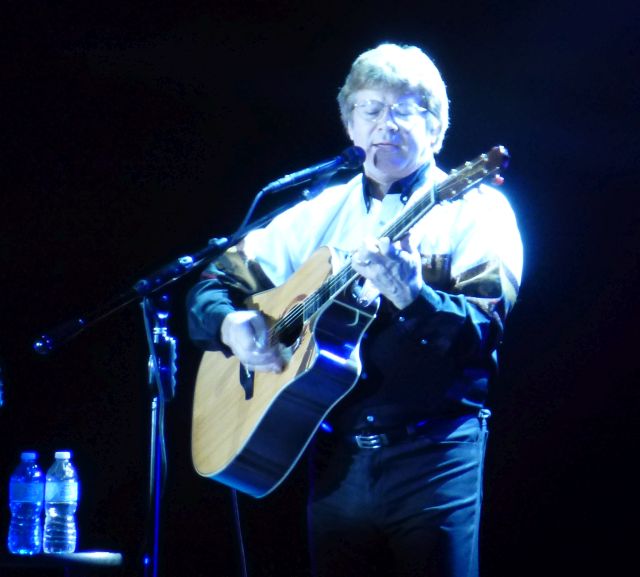 We went to the annual pickleball club Christmas party.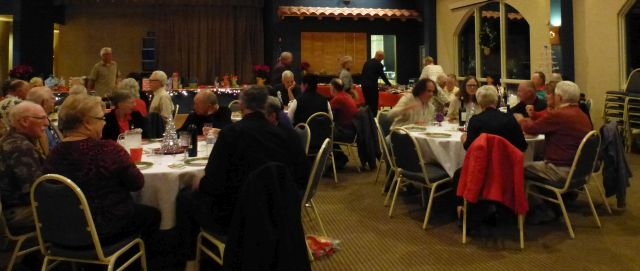 We went to Karen and Gordon's for their annual Christmas eve rib fest.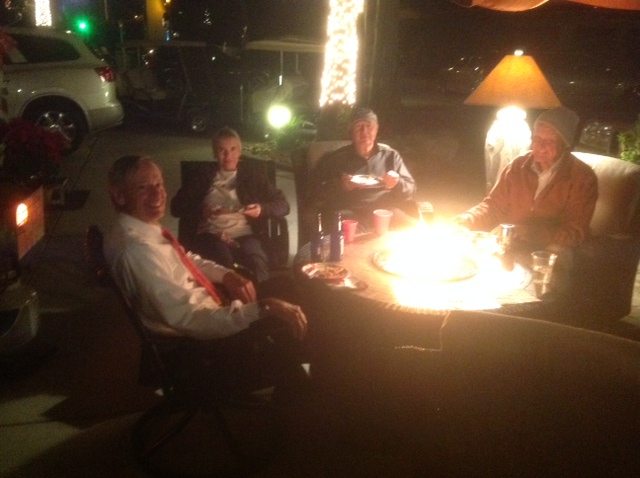 Jim and I went to see a BeeGees tribute ban on New Year's eve (excellent).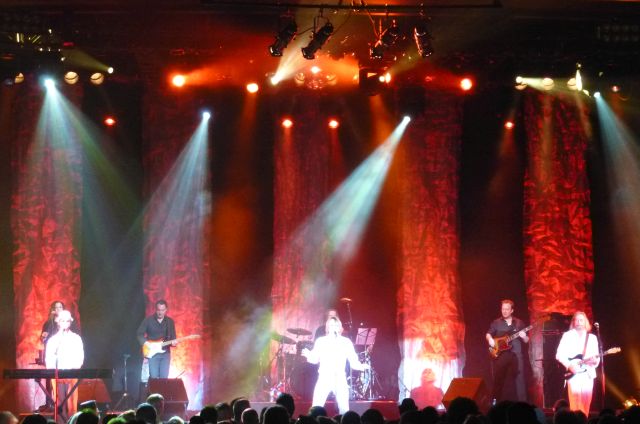 Every Tuesday in January, the resort had "Taco Tuesday" -- free tacos and margaritas.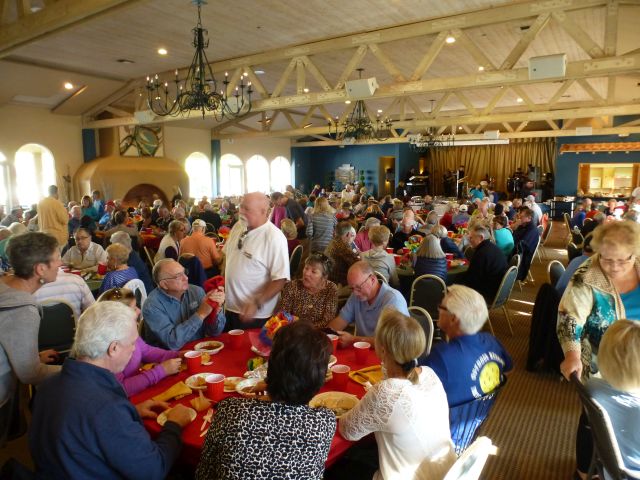 We dressed up for the Western pickleball party.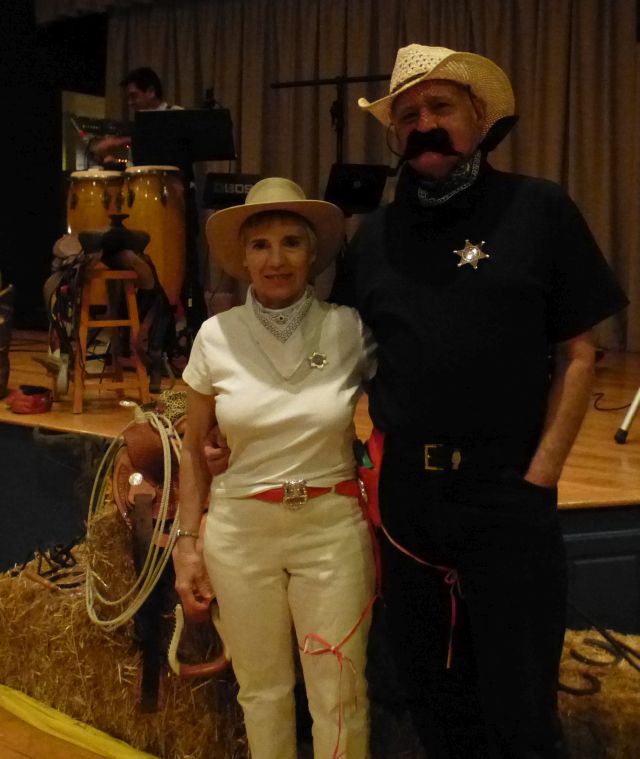 A motorhome burned up in our resort. The fire department's response was impressive -- six trucks were sent to fight the fire -- but the coach could not be saved.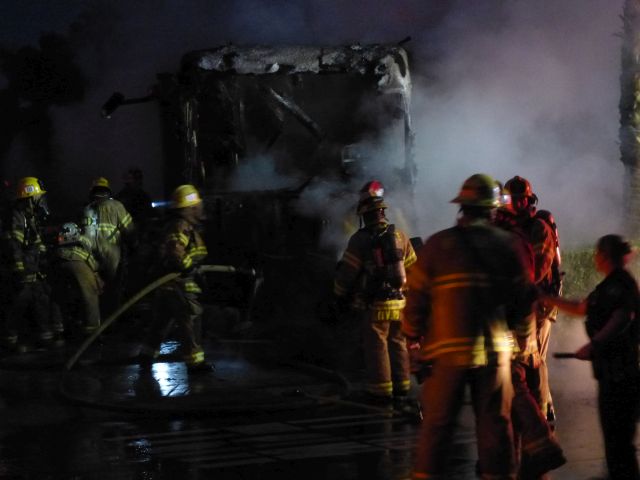 Max remains a treasure. A friend gave him a dog toy. He usually doesn't play with toys but he has played a played a bit with this one and also likes to use it as a pillow. Max turned 7 this month. The years go by much too fast!