Living on the Road
with Jim and Gayle
September, 2013

The great news for the month is Max. We returned to WSU Veterinary School in Pullman, WA for his 6 week checkup. The vets were very pleased with how well he is doing. He can now start going on walks and being out of his crate more.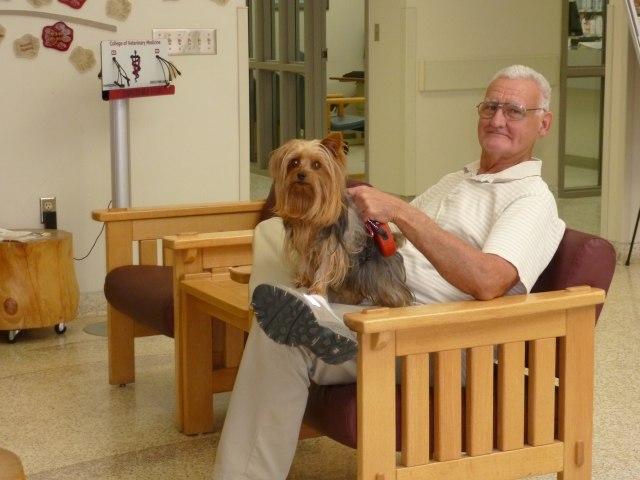 We still haven't figured out how to make the coach safe for Max. He's not supposed to jump, but, of course, he wants to be up on the furniture. With so many other things going on, we have simply made the coach safe. Later, we need to make it look good! Jim built Max a short platform so that he could get up off the floor.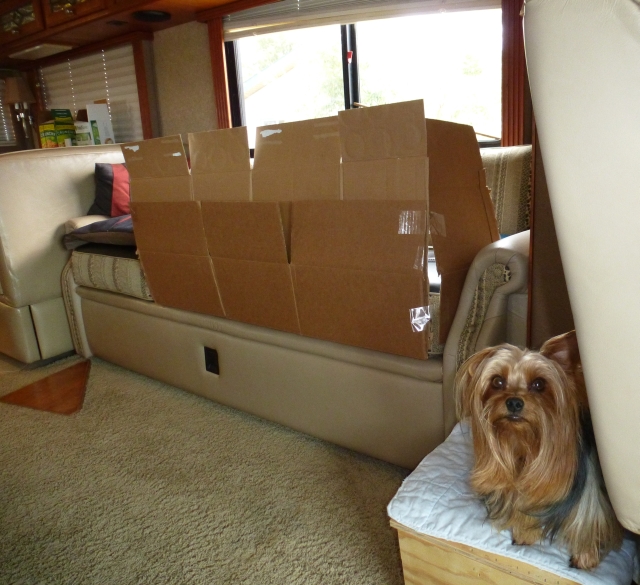 Jim continues to spend most of his time working on the coach. With access to Scott's tools and then in Desert Aire, access to his own, Jim has focused on building cabinets. He will be able to do all of the cabinetry work except for the door and drawer faces which we will have to hire done when we get to Indio.
Jim is enclosing the "computer desk" to give me a cabinet for file drawers.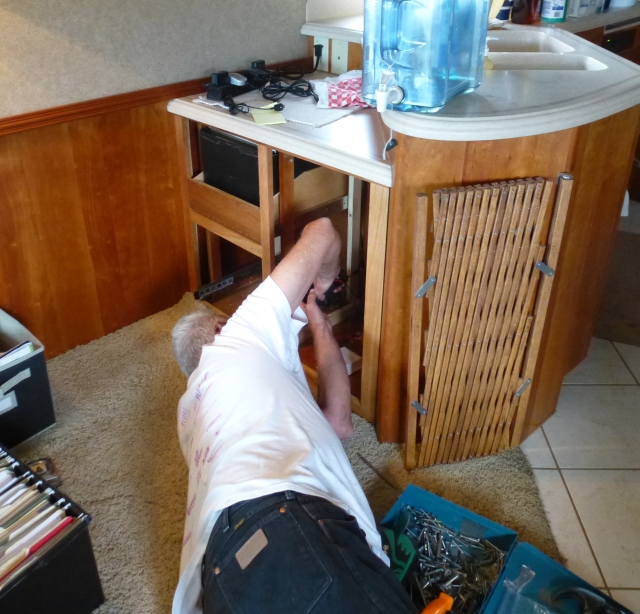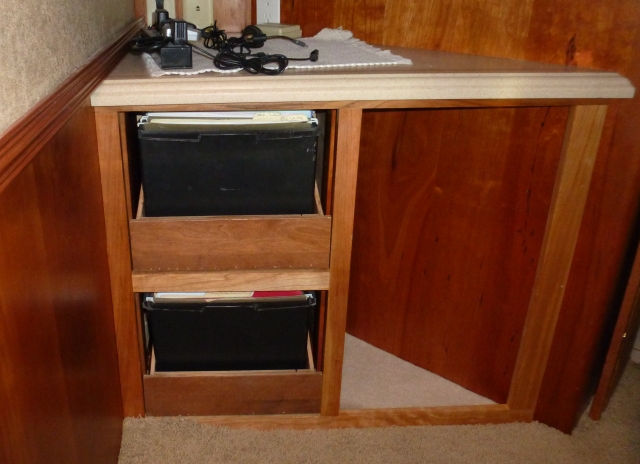 Jim made a new cabinet in the bedroom, replacing a small (worthless) diagonal "vanity" table. He was able to reuse the door. He still needs to build the drawers for the bottom cabinet (the top is shelves).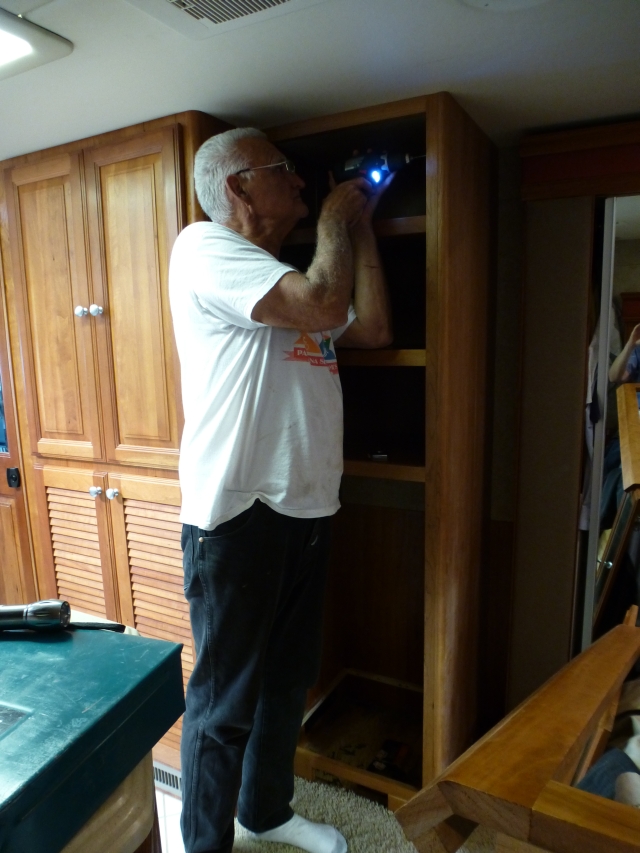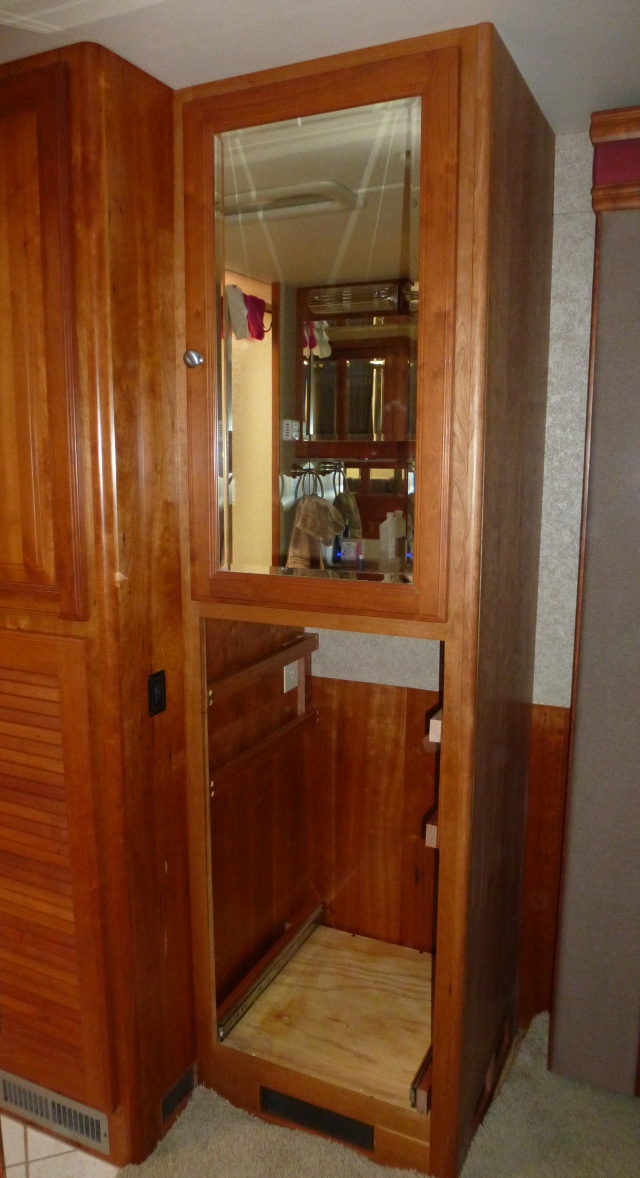 When we moved out to our Desert Aire lot, Jim took his radial arm saw out of storage and set it up on the deck.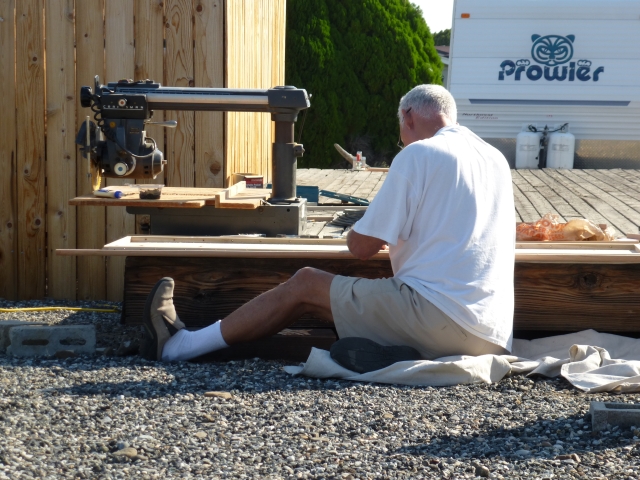 He finally decided he needed to take the time and build a table to put the saw up at a good work height.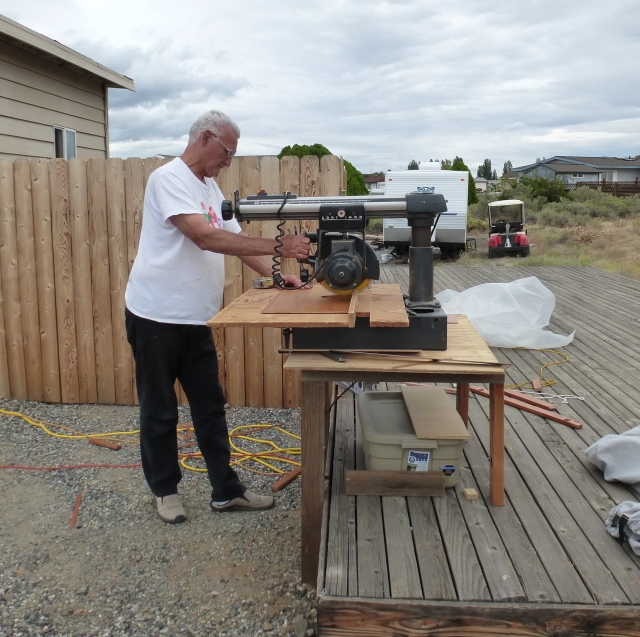 To do the cabinetry work, Jim bought two new tools -- a pocket screw jig and, his favorite, a nail gun.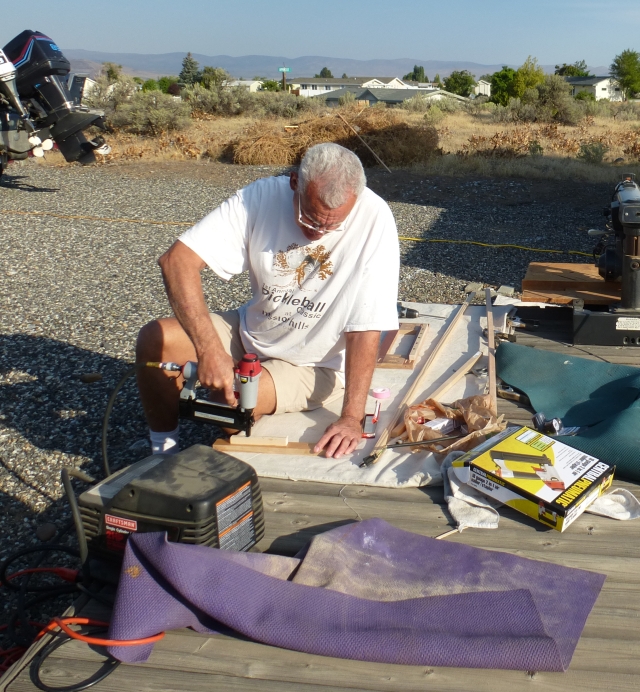 I helped whenever I could.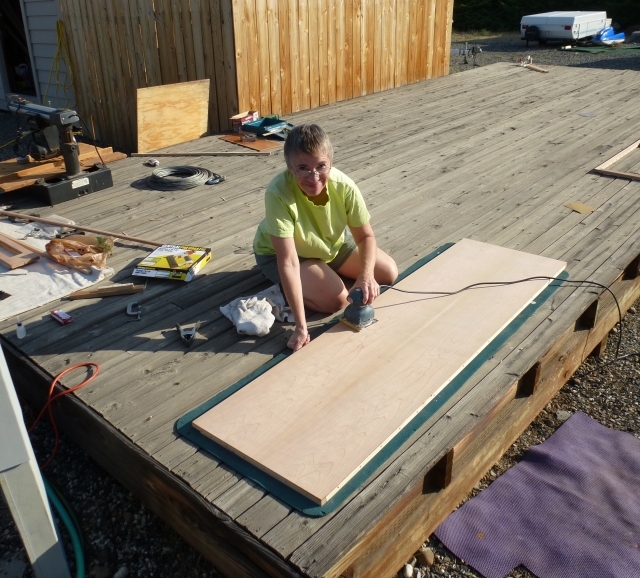 While we were at Joan and Scott's, Jim did some shooting with Scott. They shot Necco wafers with their pellet guns.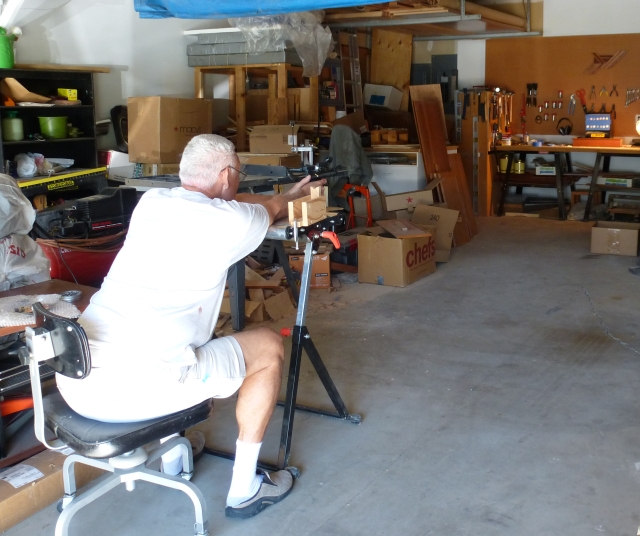 This year, internet and TV on our lot at Desert Aire is very poor. Grant County PUD has installed fiber optic cable to the street throughout the county. A customer only has to pay a nominal fee to have it brought in to their lot. We decided to have it installed so that we could have high speed internet. It took longer than we expected, but we now have very high speed internet on our lot.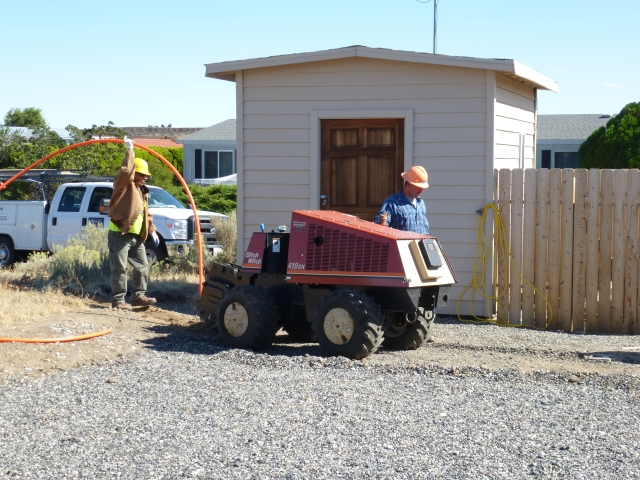 The big reason we are in Desert Aire is to fish. This year's Chinook salmon run is the biggest run on the Columbia River since Bonneville Dam was built in 1937. There are over two and a half times as many salmon coming over the dams as there were last year. We are having a good season so far though the weather has kept us from fishing on a couple of days.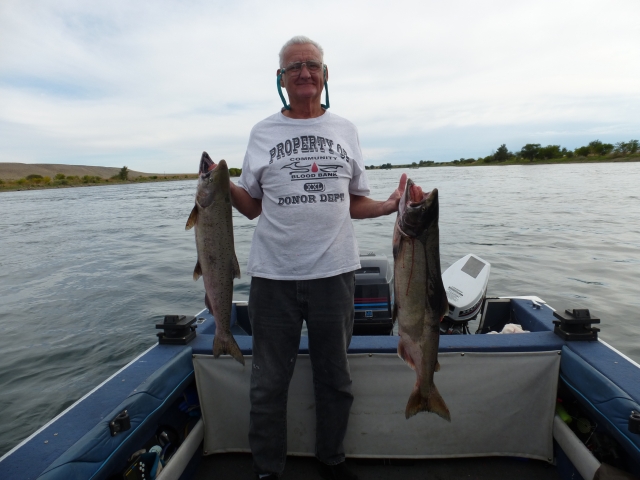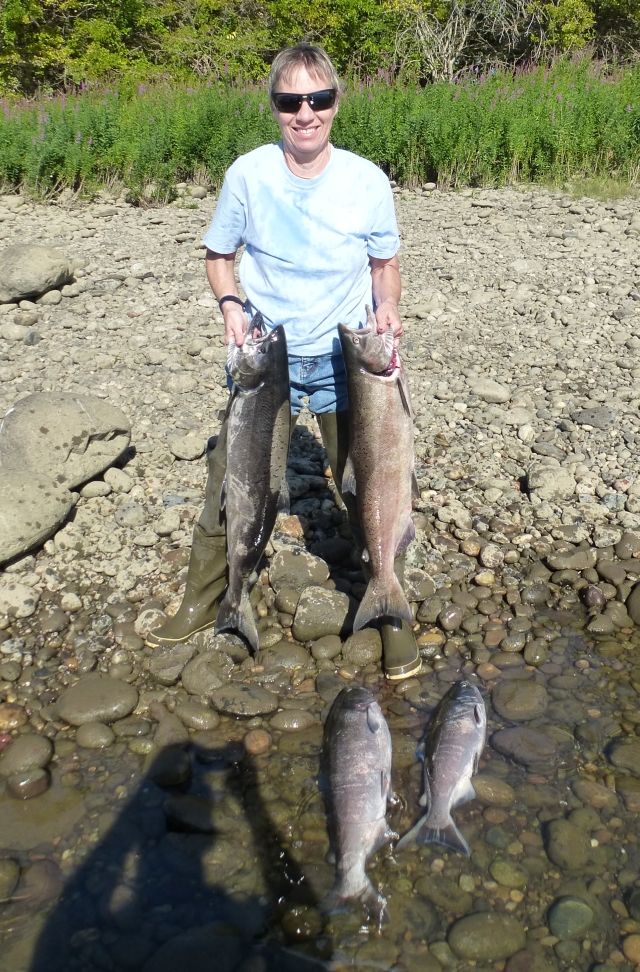 There is no rest for Jim, even when fishing.
He had to clean the carburator on the little motor as it was misbehaving.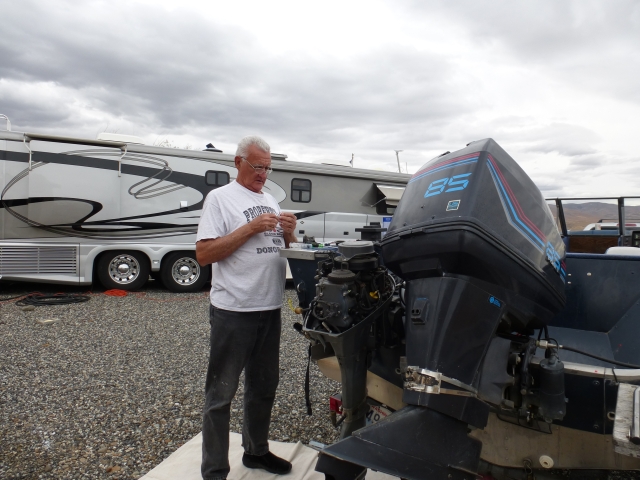 A small frig that he planned on using for his fishing salmon eggs was too small so he disassembled it and used its refrigeration coils and motor to refrigerate his big cooler.