Living on the Road
with Jim and Gayle
June, 2007
It took six days to get our engine manifold repaired and to get back on the road. It took two days just for the mechanics to drill out the 8 broken manifold bolts. This picture shows the largest pieces of the bolts that came out. The nut was welded on the end of the bolt shown to give the mechanic something to grab onto. Unfortunately, the bolt snapped again so he had to resume drilling it out.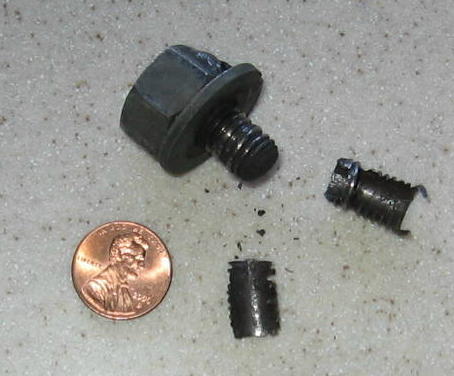 We finally made it to Richland. Charm is shown modelling her stylish new coat that Joan made for her while we were there (Puppet gets hers this fall when we return).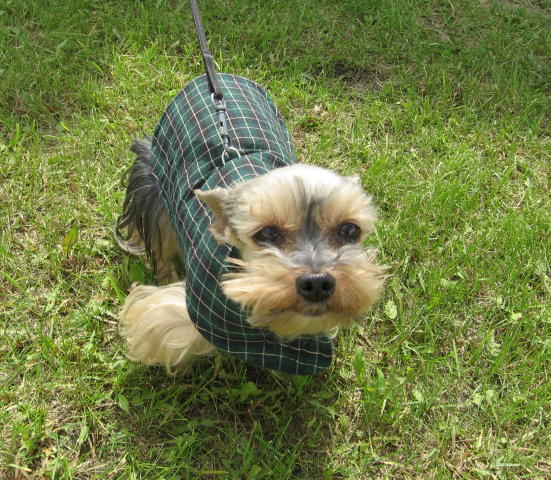 After Richland, we stopped by my mom's place and then headed for ALASKA!!!

Here we are at Milepost 0 of the Alaska Highway in Dawson Creek, British Columbia. We will travel on a Foretravel motorcade through Alaska (45 days).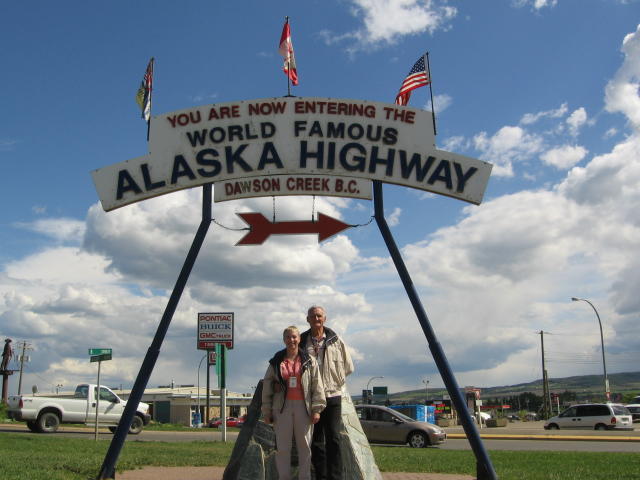 We stopped at Liard Hot Springs on our way from Muncho Lake to Watson Lake, Yukon. What a wonderful spot this must have been for the people building the Alaska Highway (women only got to use it on Sundays).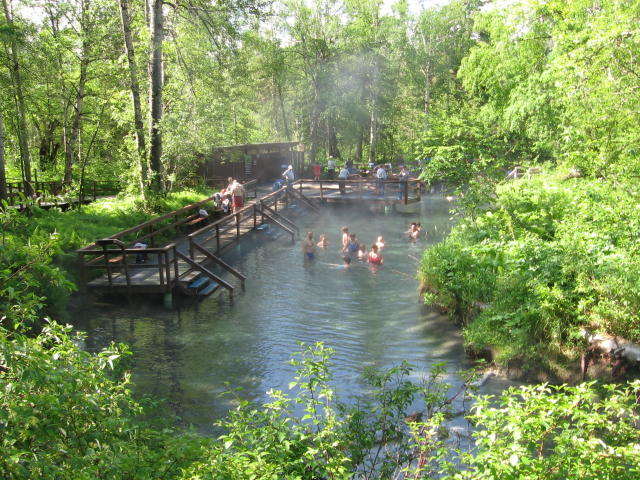 Watson Lake is famous for its "Signpost Forest".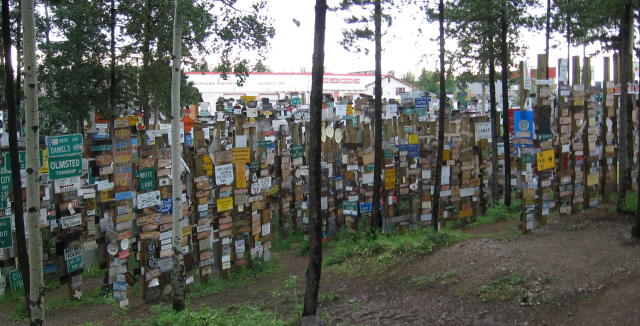 There wasn't much to recommend of Whitehorse. This was a pretty river that went through it.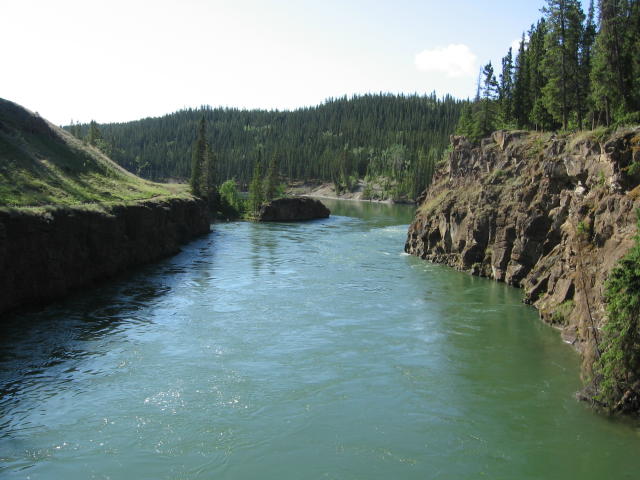 We panned for gold and toured Dredge No. 4 in Dawson City.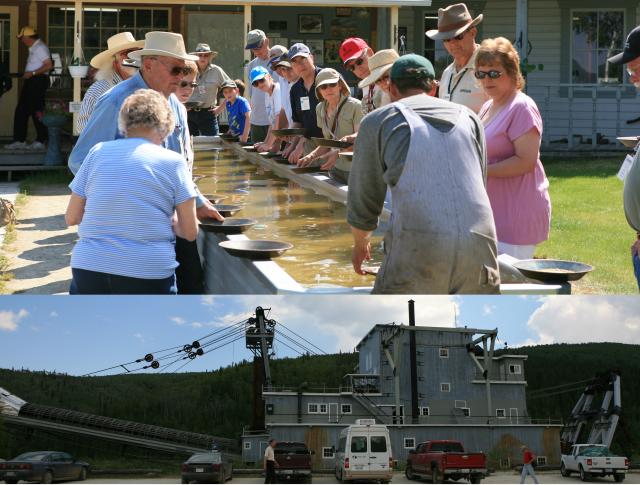 At Dawson City, we had to cross the Yukon River on a small ferry. The river dwarfed the ferry! Notice the "fancy" loading ramp -- it is simply a mound of dirt that is repiled every day.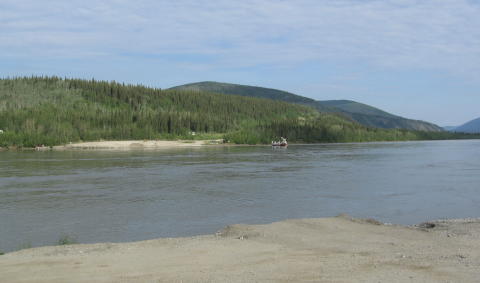 After crossing the river, we drove the "Top of the World Highway", crossing from the Yukon finally into Alaska. This road was dusty gravel for about 106 miles. It was slow going, but at least it was scenic.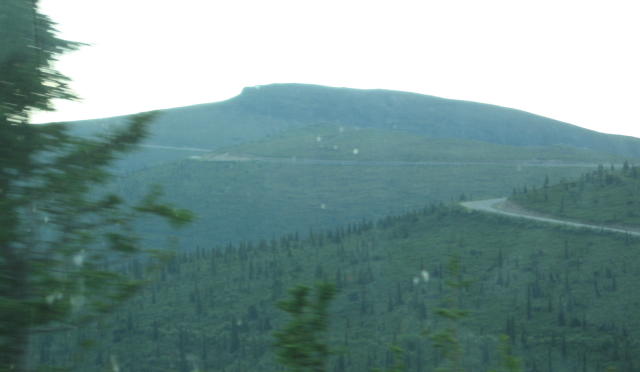 By the time we arrived in Chicken for the night, we were dirty!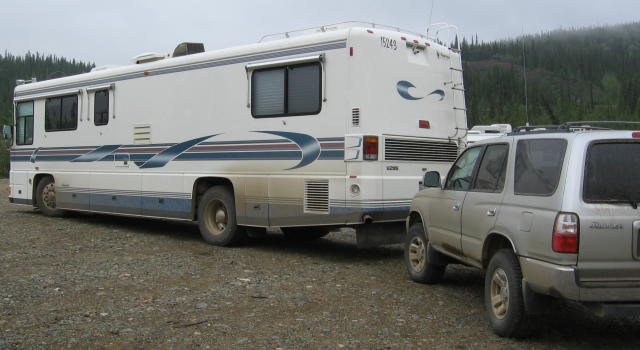 Our next stop was Tok. There was really nothing to recommend Tok. However, from the above picture, you can see why it is called the "vehicle washing capitol of Alaska". Anyone traveling the Top of the World Highway comes through Tok.

Driving to Fairbanks, we came to Milepost 1422 of the Alaska Highway. From Dawson Creek, BC to Milepost 1422 (Delta Junction, Ak), we had traveled the entire length of the Alaska Highway.

We saw the Alaska oil pipeline for the first time.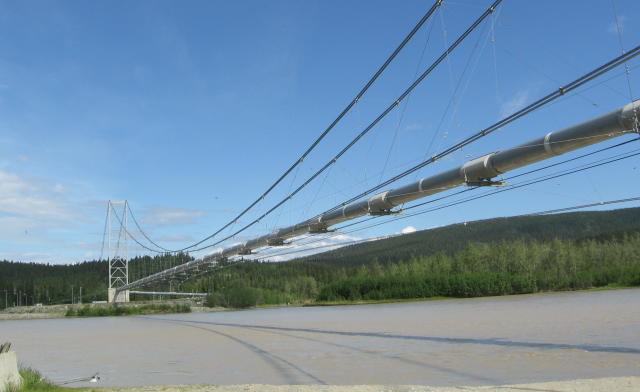 One of our favorite "tourist traps" was the El Dorado gold mine in Fairbanks. We saw a gold sluicing demonstration and were awed by the quantity of gold (superimposed in the upper righthand corner of the picture) that the owner quickly panned out in one scoop. We got to pan our own "tourist" dirt where everyone got about 30 small flakes of gold.