Living on the Road
with Jim and Gayle
August, 2007
We enjoyed our extended stay in Alaska and Canada after leaving the Foretravel Motorcade in Valdez.
We returned several times to Solomon Creek to watch the pink salmon coming up the creek. At high tide, the sea lions moved in and feasted along with a couple of eagles. This is the same place as pictured last month, but with the tide in (the dark in the water is salmon).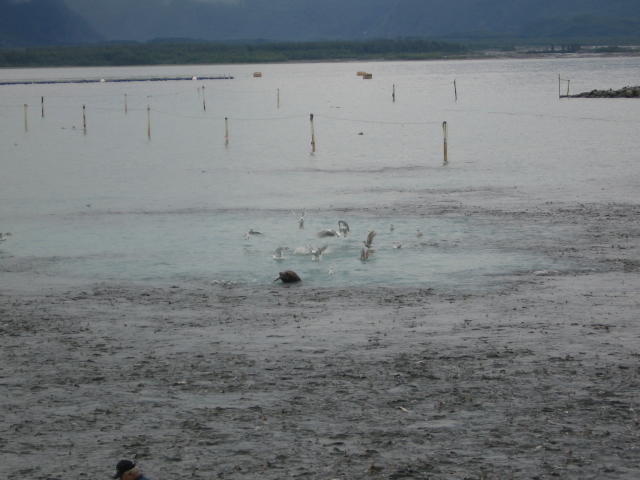 After our extended stay in Valdez, we moved on to Chitina. This took us down one of the few roads we had yet to travel. Chitina was as far as we could drive the motorhome (it was 93 miles of which 63 was gravel). From there we made a day trip to McCarthy and Kennicott, two settlements left from the glory days of Kennicott copper mining.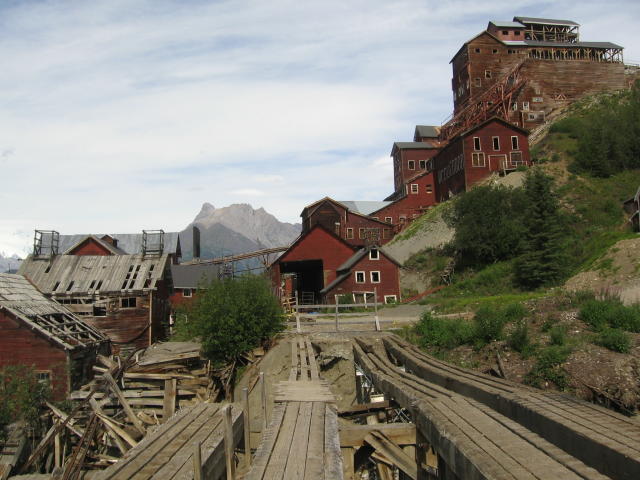 We stayed overnight at the foot of Matanuska Glacier. We were able to walk around on it. Not having ice crampons, our walk was limited but it was pretty cool to walk on a glacier. You can see from this picture how close to it that we camped.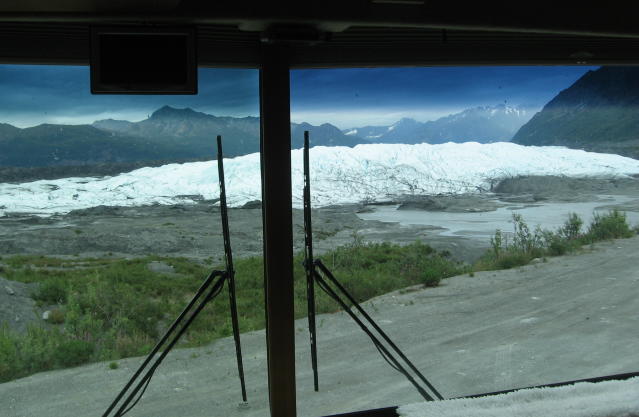 We traveled to Trapper Creek with the intention of continuing on to Fairbanks to make the trip to the Artic Circle. On further research, Jim decided it wouldn't be worth the effort. We, therefore, turned east on the Denali Highway, another untraveled road. It should have been a spectacular drive, but like so many of our drives, the mountains hid behind clouds. The highway is 100 miles of dust and gravel. It took us a full day to traverse the gravel road and spent the night in a pull off just as we got back to asphalt.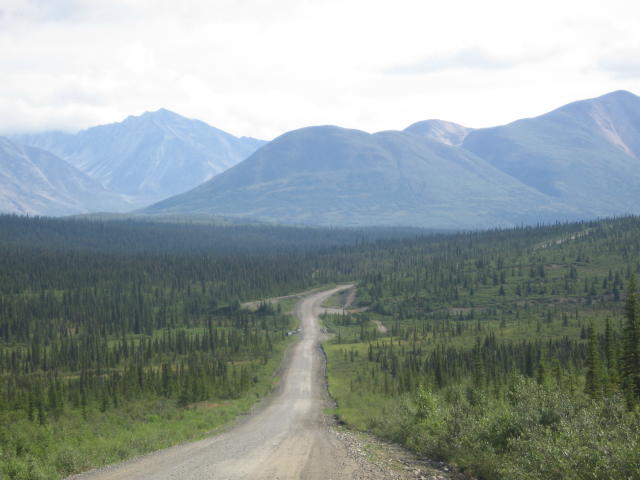 After two more days of travel, we arrived in Haines. We loved Haines. It is a pretty little town built on Lynn Canal. On its outskirts was probably the prettiest river, Chilkoot River, that I have ever seen. When the pink salmon are spawning, bears move in to feed. Unfortunately, the fish were about two weeks late so there weren't any bears. There was, however, a pair of eagles with a nest and two young on the riverbank. The pair would fish the river. Every evening, Jim and I would go down and watch them.
In this picture (the eagles were just out of range for a good picture), the eagle on the left caught the fish and then called its mate who came and is eating the fish (on the right).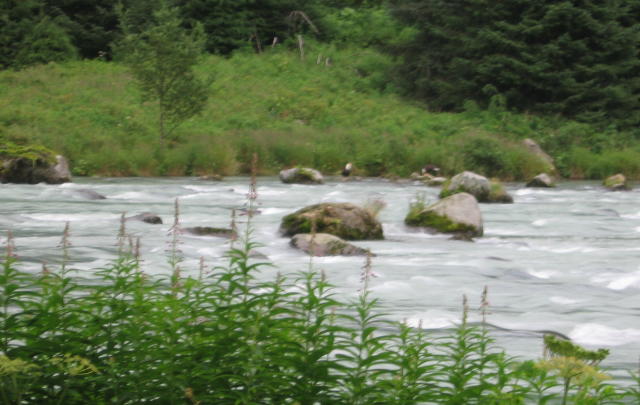 From Haines, we put the motorhome on a ferry and went to Skagway. By water, Skagway is only 15 miles away; by land it is 379 miles. Skagway is a cruise ship port. The place was crawling with tourists and full of jewelry shops. Our RV spot, however, was very pretty, overlooking the harbor.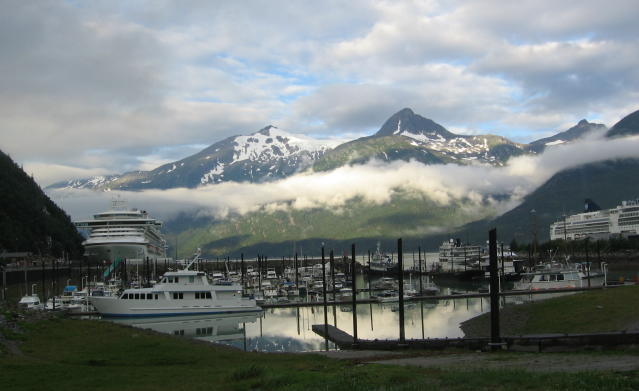 The drive from Skagway to Carcross (on our way to Atlin) was probably the prettiest drive we had this entire trip. We traveled through "moonscape" (the transition from trees to above the treeline). The light gave us perfect reflections in the many ponds.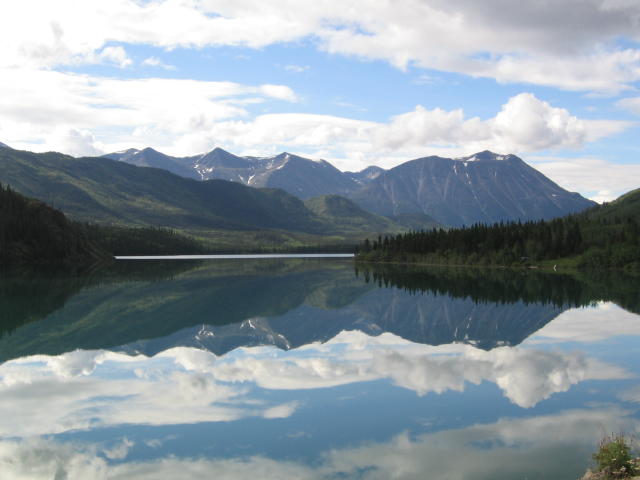 Atlin wasn't much. Really just an RV park at the end of Atlin Lake.

Heading out of Atlin, 60 miles south of Whitehorse on the Alaska Highway, the coach suddenly died. Luckily there was a wide shoulder. Jim coasted to a stop and began troubleshooting the problem. There was diesel sprayed all over the engine compartment, on the 4Runner, and a trail of it back along the highway. The secondary fuel filter was missing! Apparently when the coach was serviced before coming to Alaska, the shop had not put it on tightly and it had jiggled loose. Fortunately, Jim carried a spare so he installed it. Unfortunately, diesel continued to spray down the side of the engine. The fuel pump was now leaking (it is unclear whether it failed because the fuel filter came off, stressing the pump or if it was a coincidental failure). To make a long story shorter, we made it back to Whitehorse, the Freightliner shop had a fuel pump and Jim installed it. Unfortunately, as he removed the bad pump, a part fell into the oil pan which turned into another headache. But with a lot of patience and swearing, he got it out and we were back on the road. A bad problem that ended up being a lot less than it could have been (thanks to Jim's abilities).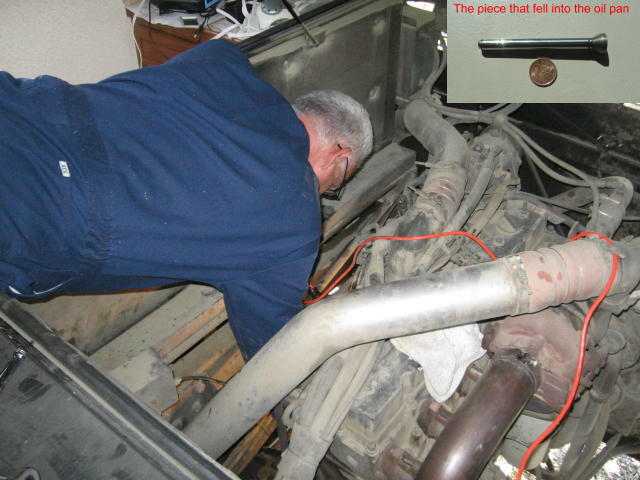 We overnighted on the road and then spent a day at Dease Lake where we traveled to Telegraph Creek to see the scenery of the "Grand Canyon" of the Stikine River.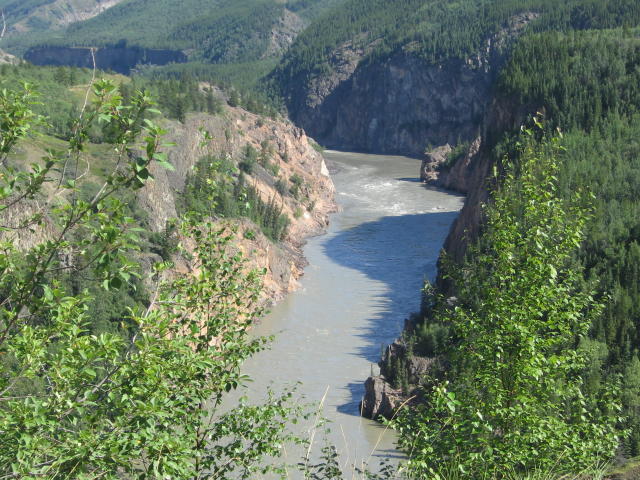 Our last stop in Alaska was Hyder. The reason we came to Hyder was in hopes of seeing grizzly bears fishing for salmon. We did! One night we saw seven grizzly and two black bears, including a mother grizzly ("Monica") and her yearling triplets.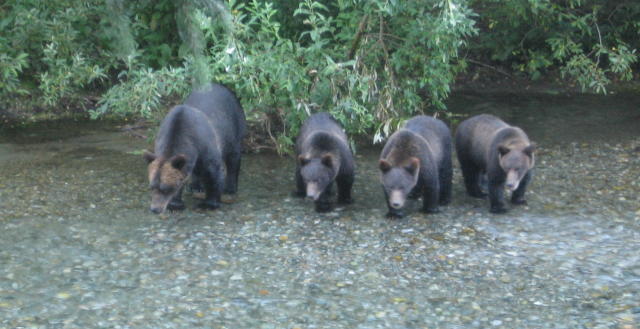 Leaving Hyder, we went to Prince Rupert, Burns Lake, Valemount, and Penticton, BC. When we reached Prince Rupert, Jim was starting to come down with the bad head/chest cold that had been going around in Alaska. We therefore didn't do much. From Prince Rupert, we headed "home". By the time we got to Valemount, Jim was really sick so we stayed there long enough for him to start feeling better (and for me to come down with it). We finally made it to Bridgeport, WA where we stayed for a couple of days before we headed to Spokane for a service appointment for the coach.

Driving to Burns Lake, we stopped at Moricetown Canyon and Falls to watch the First Nations netting salmon.