We're now homeless. The house closed on October 31, so we now officially begin our life as RV "fulltimers". How long it will last is anybody's guess.

Our first trip was all the way across town to Scott and Joan's driveway. They even provided an extension cord.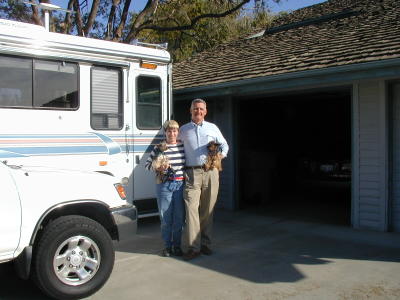 Joan knitted sweaters for the dogs.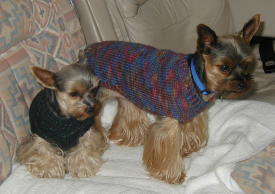 After visiting with the SWH's for a couple of days, we trekked over to Seattle and spent a week with Gayle's mom. We stayed at an RV park on Lake Sawyer just outside Enumclaw. It was just a parking spot since we were at Martell's most of the time.
Next we drove to Vancouver, Wa. where we stayed with Robin and Sharyl (in the street in front of their neighbor's house). Also got to visit with Michelle and Ginger and their families.
We are currently (December 1) in Yuma, Arizona. Lots of lettuce and sunshine (but not particularly warm). Along the way we stopped in Klamath Falls, Or.; Reno, Nv.; Goldfield, Nv.; Las Vegas, Nv.; Pahrump, Nv.; and Bull Head City, Az. Some places were very nice and others were less nice.

We will leave here Dec 4 to continue eastward to arrive in Austin for Christmas. Then a few months of aimless wandering until we have to be in Virginia in April.

Gayle's monthly newsletter provides more details. If you want on her mailing list, send her an e-mail at gmcneece@aol.com